Applications have been received for 2023 and are being reviewed. We will reopen the application process on January 16th, 2024 at 12pm
.
.
Tier 1 Waitlist
The first step is applying to be put on the Tier 1 Waitlist. Once the application is processed and you are added, you would be contacted in early 2024, with 2 potential options:
1. Be given a weekend membership for the 2024 season, which will lead to a full membership in 2025.
2. If there is room, be granted a full membership for the 2024 year. Please note: this is not guaranteed, as current weekend memberships have priority
---
Tier 2 - Weekend Membership
Once off the Tier 1 Waitlist, and the weekend membership fee has been received, you will be considered a Weekend Waitlist Member. This Weekend Membership allows access to the club Friday after 6PM, Saturdays, Sundays and holiday Mondays. If a membership position opens in the same calendar year, the waitlist fee will be applied to the cost of the membership. Weekend Memberships are also eligible to register for weekend programming.
.
2023 Fees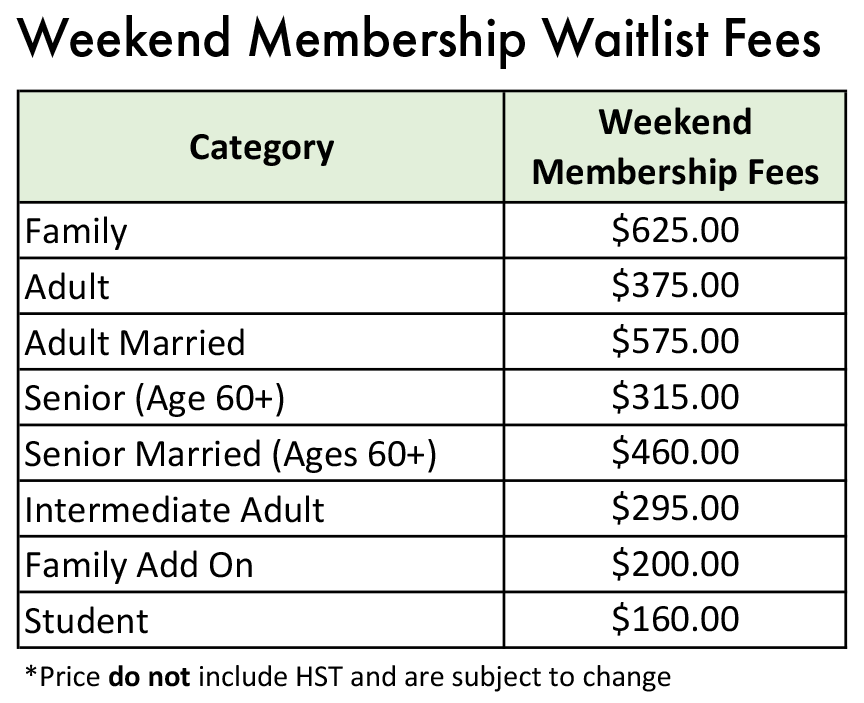 ---
Tier 3 - Full Membership
Once a spot for full membership becomes available, the administration will contact you for next steps and to decide on an Entrance Fee option.