We are currently in the process of reviewing applications received for this year, so we have temporarily removed the application.
If there is still availability to apply, we will be updating this page with details on May 10th.
.
.
Tier 1 Waitlist
The first step is applying to be put on the Tier 1 Waitlist. Once the application is processed and you are added, you would be contacted in early 2024, with 2 potential options:
1. Be given a weekend membership for the 2024 season, which will lead to a full membership in 2025.
2. If there is room, be granted a full membership for the 2024 year. Please note: this is not guaranteed, as current weekend memberships have priority
---
Tier 2 - Weekend Membership
Once off the Tier 1 Waitlist, and the weekend membership fee has been received, you will be considered a Weekend Waitlist Member. This Weekend Membership allows access to the club Friday after 6PM, Saturdays, Sundays and holiday Mondays. If a membership position opens in the same calendar year, the waitlist fee will be applied to the cost of the membership. Weekend Memberships are also eligible to register for weekend programming.
.
2023 Fees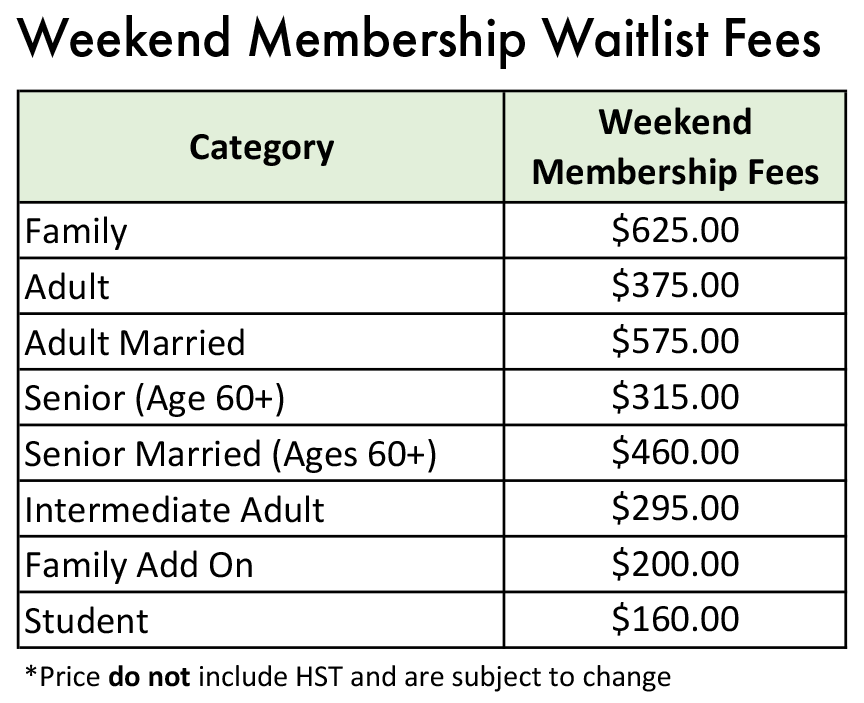 ---
Tier 3 - Full Membership
Once a spot for full membership becomes available, the administration will contact you for next steps and to decide on an Entrance Fee option.